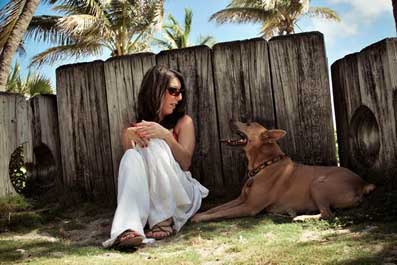 Hello! Welcome to our site!
The Wiggle Waggle Tails team is an IN-HOME Pet Sitting and Dog Walking service. We are very passionate about animals, which makes our job easier for us.
Having your pet staying in their own environment keeps them at ease, and not nervous or homesick compared to if they were boarding in kennel.
Your pet will have a new human BFF for life!
We are true dog people and will love your pet as much as you do.
Wiggle Waggle Tails is a huge supporter of local rescue groups and we volunteer our time to help many rescue groups
Andrea Seamans, the owner of Wiggle Waggle Tails has incorporated her film and photography background into the company. She made her first documentary, Miami's Pit Fall and photographs her clients' furry family members!
Wiggle Waggle Tails is a great organization to call for in-home pet sitting and dog walking services! Everyone here loves their job because we have the distinct privilege of working with your animals all day long. All these animals deserve dignity and love, and we make sure to bring it to them in spades!
Keeping dogs and cats in their own home environment is crucial. We offer constant support for dog walking or pet sitting because we know how important it is for your pets to feel comfortable. Our overnight sitters are available 24/7 to watch your pets, as long as arrangements are made during office hours.
Although no one else can offer your pet the unconditional love you do, we make sure your animals are comfortable around us. We love making new furry friends! Everyone at Wiggle Waggle Tails is a real animal lover and supporter of all rescue organizations and volunteers! Our beautiful owner, Andrea Seamans, has a background in film and photography which she brings into the company! Her photographs are a stunning addition for any animal lover.
Stop by the beautiful Pembroke Pines, FL location of Wiggle Waggle Tails for support in all your pet needs areas! Whether you need someone to exercise your dog properly while you are out of the house or someone trustworthy to take care of your pets overnight, we are here to help!  If you would like to learn more about us, please don't hesitate to contact us!