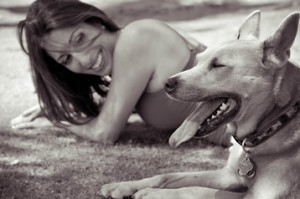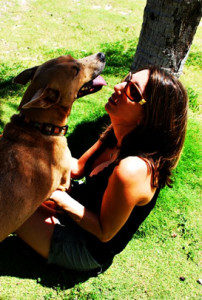 About Andrea
Andrea is the founder and owner of Wiggle Waggle Tails, LLC.
Pet sitting started out by accident for Andrea.  She always had a passion for animals and understood them in a way that no else could.  In 1997 at the age of 18, her aunt gave her a summer job to pet sit her dog. Little did she know, in 2000 she started rescuing and rehabilitating dogs who have been abused, and neglected. Andrea then started volunteering for local Miami and Broward non-profit animal rescue organizations, such as Friends of Greyhounds, Sabbath Rescue, and 1 Lucky Dog Rescue.
In 2010, Andrea decided to go ahead and make her up-rising pet sitting job into a LLC and named it after her late Jack who crossed over the Rainbow in 2014 from cancer.
"I always called Jack wiggle waggle butt, because his little stubby tail was always wagging along with his butt. I was trying to think of a name for my business and it just hit me…Wiggle Waggle Tails."
Between the years of pet sitting and rescuing, she got her certification in Animal Behavior from Animal Behavior College in 2006. This only enhanced her understanding of the animal language even more.  She uses her knowledge to help evaluate rescue dogs, and help her clients understand their pets more.
Andrea was also a proud kennel helper and dog daycare supervisor at Country Inn Pet Resort from 2006 – 2009 where she got to meet great people and pets.
In 2013, Andrea graduated with a Bachelor of Applied Science in Film and TV Production from Miami Dade College School of Entertainment and Design Technology. Her thesis film Miami's Pit Fall was a success in her class and has been recognized as the "Official Selection" in several Florida Film Festivals of 2013 and 2014, and showcased at the 2013 Ft. Lauderdale Film Festival.
She plans to take her talent and continue to make short films on animal welfare and animal rights. Andrea also developed a passion for pet photography over the years and loves to capture animals in "their moment."
"My goal and mission for Wiggle Waggle Tails is to continue the good, heart felt, trust worthy, positive work that I do with my pet clients, and the rescue dogs in need. They all become part of my life, and without them. I wouldn't be here today. So I thank you all for the many years of trust, loyalty, support and letting me be a part of your pet's life."
You can read more on Andrea's rescue stories in her blog.