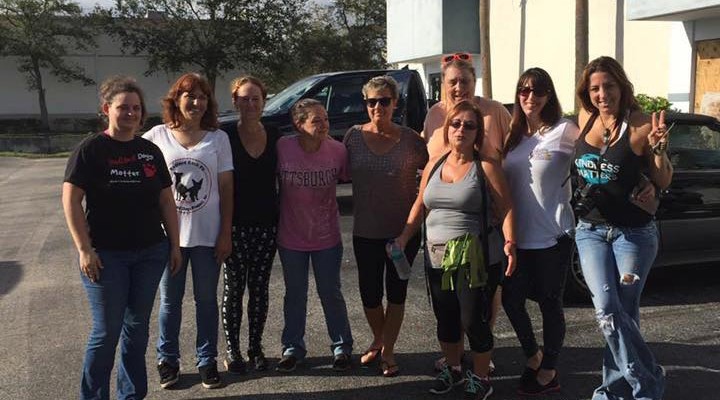 Helping Unwanted Pets During Hurricane Irma
For many years the Redlands/Homestead area, FL is known as the dumping ground for unwanted pets, former fighting and bait dogs.
As Hurricane Irma approached, a lot of rescuers were concerned about the dogs in the Redlands, which is an evacuation area and an non-profit organization, Redland Rockpit Abandoned Dogs Project acted quickly.
They managed to rescue about 40 dogs and pups the day before Hurricane Irma hit South Florida.
Some were even owner surrenders as people evacuated. As animals lovers, we think to ourselves, "how can anyone abandoned or surrender their pet in a time of crisis"? Reality is, this happens on a daily basis, not just in Florida, but all over.  I haven't truly been a part of the rescue community for several years because of personal reasons, but I always tried to help in other ways. Once you rescue, it's in your blood, it never leaves you.
The moment came for me … I knew I had to become a rescuer full time again in order to help these Hurricane Irma dogs. When I started out in rescue, we didn't have social media, it was all done by word of mouth, phone calls, and emails. Now we have all kinds of social media platforms to help spread the word. I put myself out there on social media " Hi I'm Andrea, I am a rescuer and can assist with transport or capturing" Soon enough, a friend of mine, Dacia, saw my post on Facebook and told me she has an Aunt in Pennsylvania who runs an non profit no kill Animal Rescue Organization, (Because You Care Inc.) and she was willing to take at least 15-16 Hurricane Irma dogs. I quickly connected with my friend's Aunt and started connecting with others on Facebook who needed help with dogs they found during Irma. I am friends with Ale Ocha who is the founder and VP of Redland Rockpit Abandoned Dogs Project and she quickly connected me to Katie who is also a part of the rescue group. Together, along with 2 other people who I've never meant before were able to chat all with Kris from Because You Care Inc and organized a transport for 15 dogs who desperately needed foster care. Thanks to Alexis Georgia, she was able to have people donate crates, leashes, cleaning supplies for the trip and her organization – Kindness Matters funded the transport.
Even though I wasn't involved in these dogs lives from their "rescue day" I was able to help them all because of my post that my friend saw, and from there everything just fell into place. I am a true believer that everything happens for a reason and I was suppose to connect with the special people who were involved in this amazing journey. For some, they do this everyday, and it's a everyday struggle. I am looking forward to continue helping Redland Rockpit Abandoned Dogs Project in anyway I can.
It comes in full circle.
Thank you Because You Care Inc., Bow Wow Resorts,  Kindness Matters, and Patricia from my Wiggle Waggle Tails Team and everyone else who made this happened for the dogs!
See the news story report on the rescue: http://www.yourerie.com/news/local-news/hurricane-irma-dogs-meet-foster-families-in-erie/817615956
---